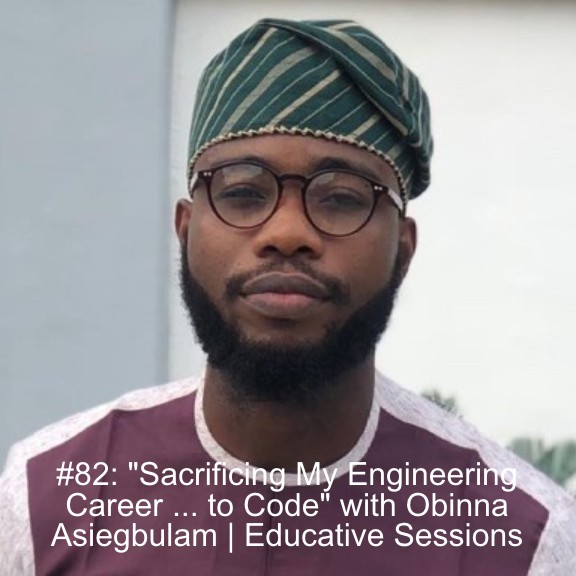 Obinna Asiegbulam knew he had to attend university and become a successful mechanical engineer and support his four siblings and widowed mother, all of whom sacrificed their own opportunities to help him succeed. However, Obinna fell quickly out of love with drafting and wanted to do something new. Seeing the potential of the Nigerian tech sector and the creative potential of coding, Obinna had to make a sacrifice of his own.
Watch the YouTube HERE: https://youtu.be/xqEVvTQEhjg
ABOUT OUR GUEST
Obinna is a 28-year-old software developer from Nigeria. He is the fourth of five children of a widowed mother. Despite his poor background, he did everything possible to acquire a bachelors degree in Mechanical Engineering. Although his upbringing was plagued by the untimely death of his father, followed by prolonged hardship, he remained passionate about education. His attentiveness to details and positive can-do attitude have kept him afloat and made him standout.
Don't forget to subscribe to Educative Sessions on YouTube! ►► https://www.youtube.com/c/EducativeSessions
ABOUT EDUCATIVE
Educative (educative.io) provides interactive and adaptive courses for software developers. Whether it's beginning to learn to code, grokking the next interview, or brushing up on frontend coding, data science, or cybersecurity, Educative is changing how developers continue their education. Stay relevant through our pre-configured learning environments that adapt to match a developer's skill level. Educative provides the best author platform for instructors to create interactive and adaptive content in only a few clicks.
Episode 82: "Sacrificing My Engineering Career ... to Code" with Obinna Asiegbulam | Educative Sessions